Automatisk plastdiodmodulinsprutningsmaskin
Den automatiska ritningsanordningen av LED-modulen Plastic Injection Molding Machine använde servomotorn för att driva högkvalitativ kulstångsstangsdesign, som kan lokaliseras med hög precision och precisionskontroll i ± 0,01mm. Dessutom kan LED Module Light Injection Molding Machine absorbera material och mögel automatiskt, det uppnår automatisk produktion och drift av hela maskinen. Det förbättrar produktproduktionen avsevärt för att möta efterfrågan på marknaden.
Produktbeskrivning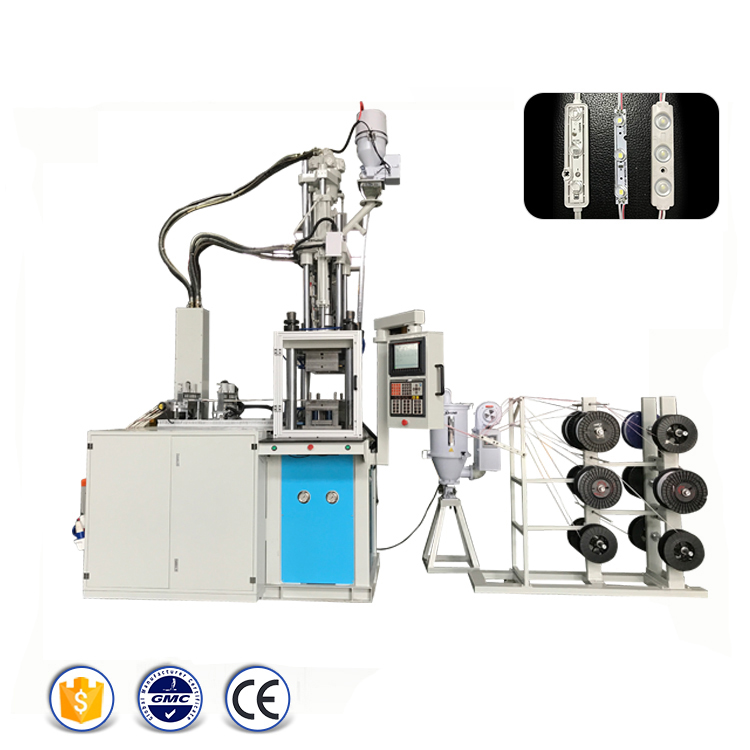 Huvuddrag
1. Vertikalt läge låsning och vertikal formsprutning , lämplig för plastdetaljer sätta in gjutprodukter .
2. Två sektioner av temperaturkontroll, insprutningshastighet och mottryck, justera utan stadier etc.
3. Bottenformen är fixerad och den övre formen är rörlig, vilket är bra för positionering för den färdiga produkten i formen.
4. Snabblåsläge / lågspänningslångt stängningsläge, när maskinen är onormal, öppnar maskinen automatiskt formen.
Specifikationer
MODEL

UNIT

T

C-850-P




INJECTION UNIT

Screw Diameter

MM

36

42

Maximum Injection Pressure

Kg/Cm2

2176

1599

Theoretical Shot Volume

Cm3

158

215

Maximum Shot Weight(PS)

G/oz

141/5.0

194/7.0

Injection Rate

Cm3/sec

127

175

Screw Speed

R/Min

0-180

Screw Stroke

Mm

160

Nozzle Stroke

mm

300

Number of Temperature Control

_

3




CLAMPING UNIT

Clamping Force

Ton

85

Opening Force

Ton

8

Platen Size

MM

680

x570

Slide Stroke

M

M

/

Rotary Table Diameter

MM

/

Space Between Tie-Bar

MM

500x385

Minimum Mold Thickness

MM

250/310

Opening Stroke

MM

250

Open Daylight

MM

500/560

Max.Mold Weight

Kg

/

Ejector Force

Ton

2.2

Ejector Stroke

MM

50




ELE.UNIT




Max.Hydraulic Pressure

Kg/cm2

140

Pump Output

l/min

59

Oil Tank Capacity

L

250

Cooling Water Consumption

I/h

800-1000

Electric Power

Kw

11

Barrel Heating Power

Kw

6.7

Total Wattage

Kw

17.7




OTHERS

Machine Dimension(Approx.)

M

1.9x1.5x3.0

Machine Weight(Approx.)

Kg

3100

Specifications are subject to change without prior notice.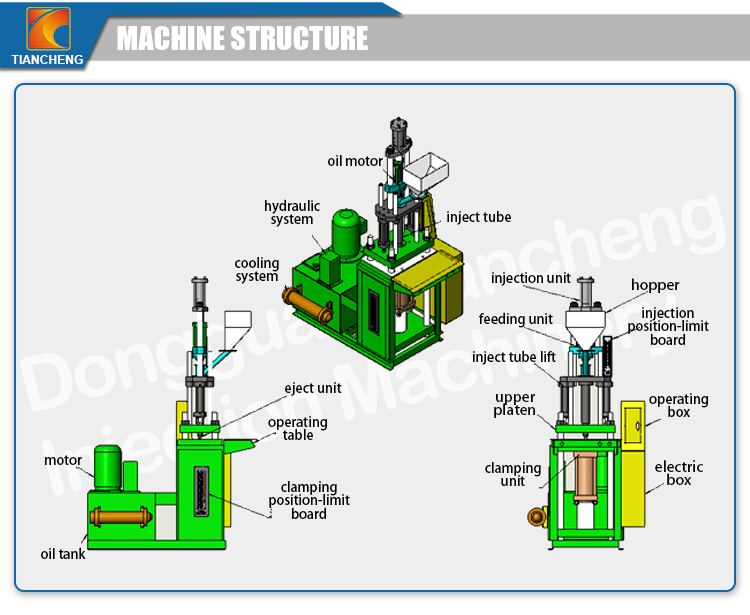 Plåt Ritning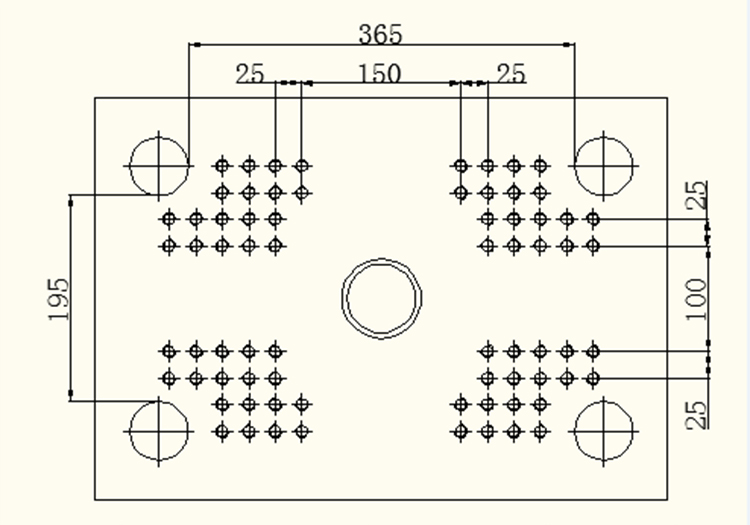 PROFESSIONAL TEAM GLOBALIZATION SERVICES
Dongguan Tiancheng Machinery Co, Ltd, grundades 1999, lokaliserar i Dongguan City (världsberömda tillverkningsbas), täcker ett område mer än 8000m, äger avancerade anläggningar, professionella tekniska team och moderna hantera system. Produktsortimentet täcker från standardtyp, roterande, glidform, tvåfärg, Bakelite, BMC, flytande silikon, till plastinjektion kring utrustning som materialtorkare, sugmatare, formkonstruktion, automatisk mekanisk.

1. Super stark FoU, med flera patentansökningar av automatisk produktionshjälputrustning (formsprutningsmaskin runt).
2. Sparsam / Enkel arbetsstil, Aggressiv investering i produktionsanläggningar och arbetsflödesplanering, erbjuda högkvalificerade maskiner och mögel till högst rimligt pris.
3. Kunden täcker huvudsakligen över Asien, Sydamerika, Östeuropa, inklusive Samsung, Flextronics, COSONIC, CLIP, etc. Ingenjörer är tillgängliga för att tjäna utomlands. Ett års garanti som grundläggande, plus obehaglig eftersalgsservice (online-meddelare / e-post / telefonsamtal Q & A, detalj Grafikinstruktioner, felsökning av demonstrationsvideo etc.).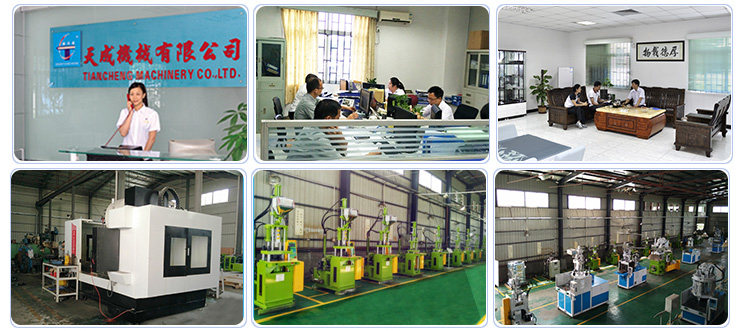 Våra tjänster:
1. Rekommendera om behov:
Vi erbjuder information om produkt / mögel dimensioner / driftsmaterial / teknisk detas / budget, vi kommer att göra en rekommendation och jämförelse mögel till dig.
2. Vi tillhandahåller OEM-tjänster till våra kunder.
3. Garanti & kundservice.
Vi tillhandahåller ett års garanti på maskin och tillbehör, leveransavgifter för byte av delar på kunder. Vi kan även erbjuda utlandsservice för underhåll till kunder, flyg och levnadskostnader på kund.
4. Svara din förfrågan om 24 timmar, när som helst du kan kontakta oss.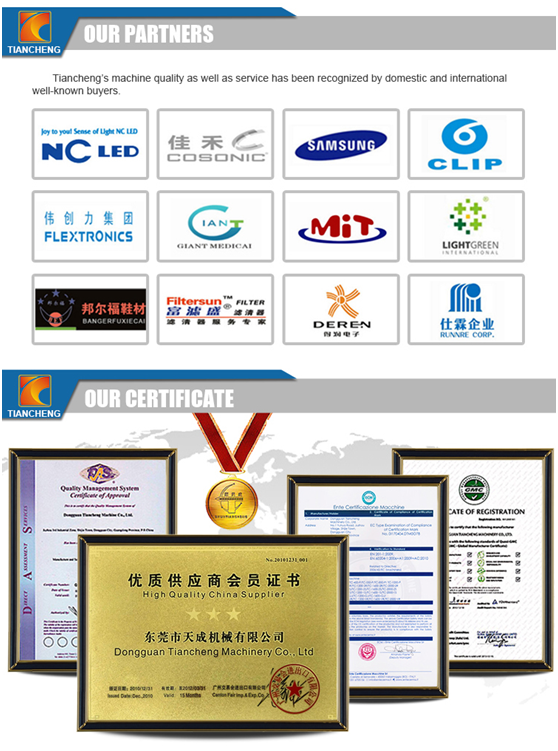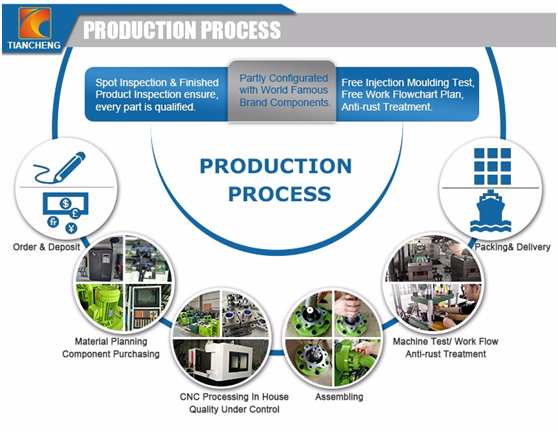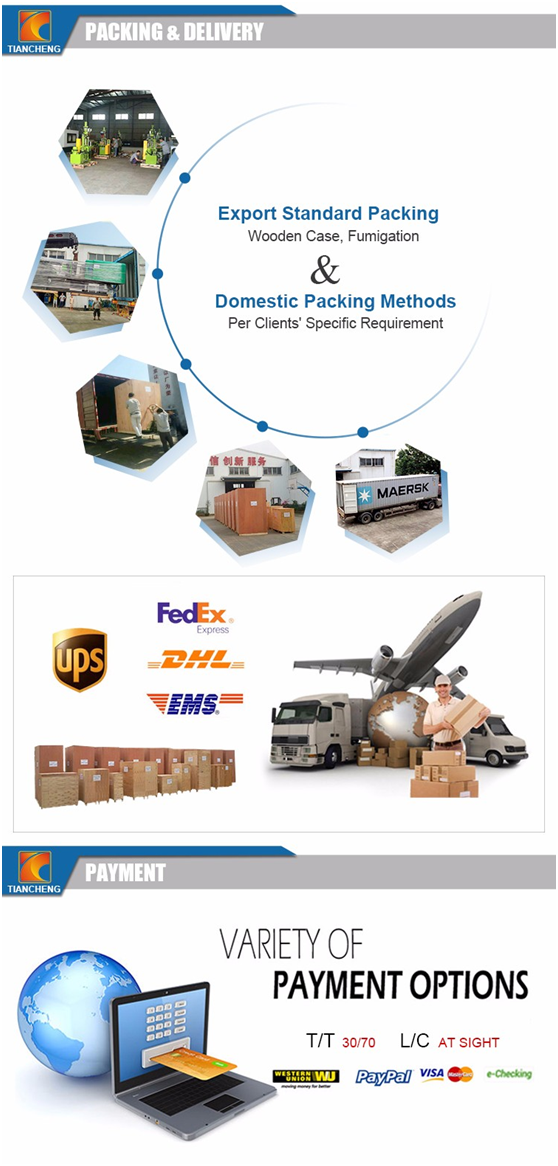 a) Hur kan jag betala dig?
A: Efter att du har bekräftat vårt PI kan du betala via T / T (HSBC-bank) och L / C.
b) Vad är orderproceduren?
A: 1. Först diskuterar vi orderuppgifter, produktionsuppgifter via e-post eller online-konsultation (Wechat / WhatsApp).
2. Då utfärdar vi en PI för din bekräftelse. Kunden ska göra inbetalning innan vi går in i produktionen.
3. När vi har mottagit insättningen börjar vi behandla ordern.
4. Innan produktionen är färdig kommer vi att kontakta dig för maskinens video för att bekräfta och du ska förbereda resten.
5. Efter resten betalningen har mottagits börjar vi att skicka ut varorna till dig.
c)
Hur kan jag placera order?
A: Du kan kontakta oss via e-post om dina beställningsuppgifter eller placera order på rad.
d) Hur hanterar du när dina kunder mottog defekta produkter?
A: Vi erbjuder ett års garanti och oskadlig skada kan ersättas kostnadsfritt. Om du har ett litet problem, hjälper vi dig med att skicka en video eller en grafik. När som helst du har frågor kan du söka råd från telefonsamtal eller online-konsultation (Wechat / WhatsApp).
e) Hur kontrollerar du kvalitet genom produktionsprocessen?
A: Vi har platsbesiktning och färdig produktinspektion. Vi kontrollerar halvfabrikat innan de går in i nästa stegs produktionsprocess.

Sara Ting
Export Manager
TianCheng
Wechat

: +86 13922548377 (Mobile)


WhatsApp

: +86 18024336689




1 Yuhua Rd., Juzhou Vil., Shijie Tn.,




Dongguan, Guangdong, China



Produktkategorier : Plastinsprutningsmoulding Machine Kundeapplikationer > LED modulmodulinsprutningsmaskin